New Uniform Information 2017-2018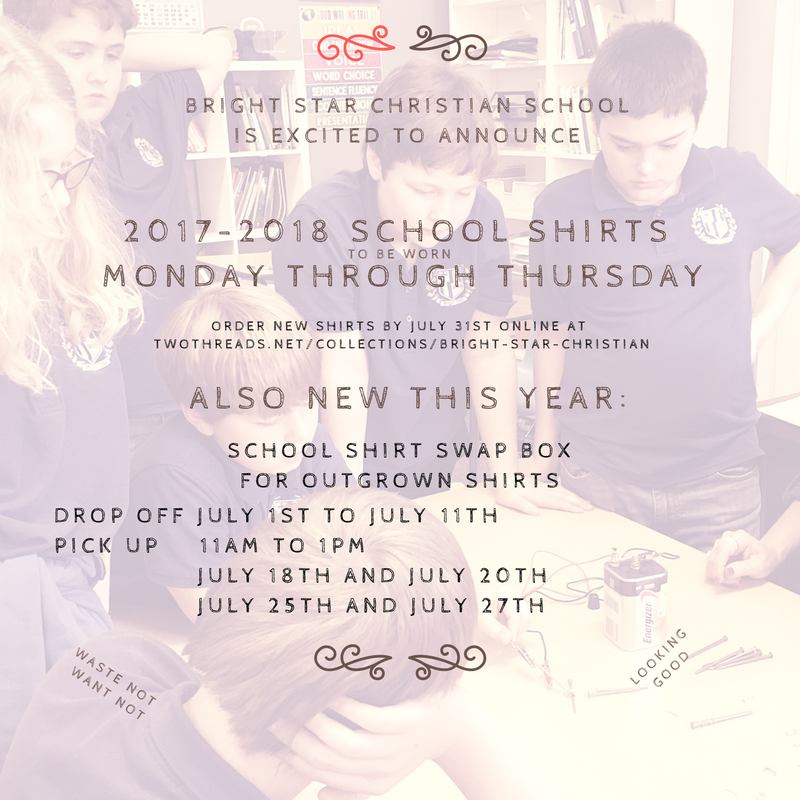 Bright Star Christian School is excited to announce the new partnership with Two Threads for new BSCS apparel.
Click on the link below to order
twothreads.net/collections/bright-star-christian
Note: Uniform policy change for 2017-2018
School shirts will be worn Monday through Thursday
Each student is required to have an official BSCS polo with embroidered shield.
Students may purchase alternative apparel (coming soon) on the Two Threads order site. These alternative shirts may be worn instead of the school shirt on regular school days. However, all students must have at least one BSCS polo to be worn for school outings, photos, and special events. Students may wear any shirt on Fridays as long as it meets the dress code in the school handbook.
Also New This Year
Thanks to Laura Griggs for this great idea!
The School Shirt Swap Box For Outgrown Shirts
Waste Not Want Not!
Drop off outgrown shirts to school by July 11
A drop box will be in the hall outside the school office
Come by school from 11:00-1:00 on Tuesday, July 18 and Thursday, July 20 or
Tuesday, July 25 and Thursday, July 27 to see if a donated shirt will fit your student.
Categories:
School